Account Alert
If you are the owner or administrator of this site, please Login now for important account information.

Not involved in the administration of this site? Please disregard this message.Please Click here to dismiss this alert.
FREESERVERS IS A UNITED ONLINE COMPANY
Copyright © 2016 United Online Web Services, Inc. All rights reserved.

---

---



A classic Sven bit from 1995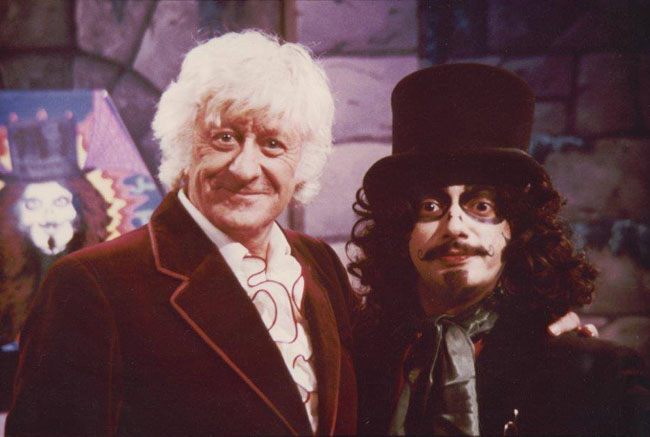 A Blast from the past...
Doctor Who (Jon Pertwee) poses with "Son of" Svengoolie circa 1984

Exclusive Sneak Peek: Sven's New set debut's on METV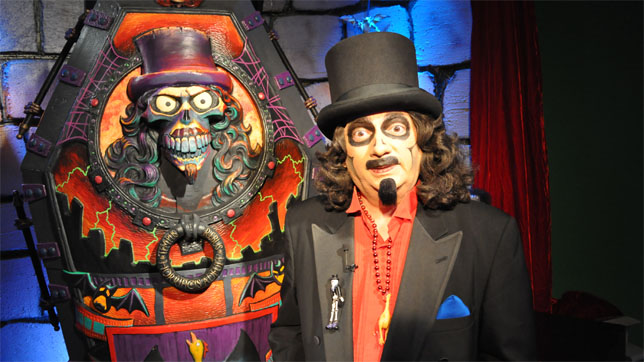 and here it is in action, opener from the November 2014 showing of "Frankenstein"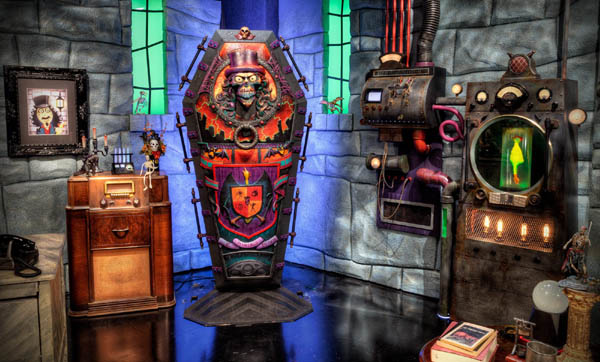 ---


Click below for a very special tribute to Jerry and Screaming Yellow Theatre





EXCLUSIVE! HALLOWEEN TREAT....
WATCH A BEST OF SVENGOOLIE SCREAMING YELLOW THEATER SHOW


Click on video below to watch


---

40 YEARS OF THE "SVENGOOLIES" AND STILL GOING STRONG...
"When Koz starts to perform, it is clear that he brings with him a marvelous sense of irony, an eye for genuine satire and the comic timing of a pro...Even the cameramen crowd around the monitors after each segment and actually laugh as they watch the scene unfold on the TV screen!"
Tom Valeo - Daily Herald, 1983
"People tell me that Sven is an icon of Chicago television, which is very flattering, but I still don't see myself as such. I have too much respect for the great veterans who I watched growing up, who influenced me, and whom I consider the true icons. Maybe I'm part of a newer wave of personalities that has added to the history of local broadcasting here, and I'm proud of that- and proud of the fact that you still want to watch what I'm doing!"
Rich Koz , from his WCIU blog - June, 2009



No one ever thought, after that fateful day in the late summer of '73, that Svengoolie would ever hit the airwaves again. But, Six years later....it did! The"Son of" Svengoolie was the horror movie host on WFLD channel 32 in Chicago for six and a half years, from 1979-1986. Then, hosting the "Svengoolie" show on WCIU channel 26 from 1995 to the present. This June 16th, 2009, marks the 30th anniversary of the Son of Svengoolie , making him one of the longest running horror show hosts in television history! So, How does one define the "Art of a Horror Host"? Well this website will attempt to touch on the roots of Svengoolie, from it's early days of "Screaming Yellow Theater", the "Son of Svengoolie" years at WFLD-TV from '79-'86 and his current incarnation of "Svengoolie", who is all grown up now. The "Svengoolie" character may seem spontaneous and unrehearsed, but believe me, he's pretty complex. Hopefully you will come to understand Rich Koz by the bits and pieces of Sound & Video we have assembled here for you. It's a wild ride, so buckle your seatbelts and hold on for dear life. And now. if you're quite ready...."CLEAR THE AIR LANES, CLEAR ALL AIR LANES FOR THE BIG BROADCAST!"



---
RICH "SVENGOOLIE" KOZ....EIGHT TIME EMMY AWARD WINNER!

The Son of Svengoolie show won three consecutive local Chicago Emmy awards

as Best Entertainment Series on WFLD for the years 1980, 1981,1982. The Svengoolie show on WCIU went on to win five more Emmy awards for a grand total of eight! In 2004, Rich Koz was inducted into the Television Academy's "Silver Circle" for outsanding contribution to Chicago broadcasting and recentley won the 2008 Rondo award for favorite horror host...wow, a pretty impressive career so far! Sven himself is played by Rich Koz. It all started with the original Svengoolie, played by Jerry G. Bishop, who hosted the WFLD show Screaming Yellow Theater in 1970. A young man by the name of Rich Koz , a drama student at Northwestern University, was a big fan. Koz wrote a letter to Bishop that included comedy material for the show. Bishop used the material and soon asked for more. Soon after Koz would be found doing more writing, as well as artwork and voices for the show. In 1973, Screaming Yellow Theater was cancelled . Bishop and Koz, continued to work together for a time. Then Jerry Bishop moved to L.A. . Before leaving Chicago, Bishop gave Koz the permission to use the name Son of Svengoolie, should he get the chance to do his own show.





In 1979, WFLD, Channel 32 , held auditions for a new horror host. Son of Svengoolie came to life! The show originally aired on Friday nights at 8:00. Later the time slot was moved to Saturday afternoons from 3:00 to 5:00, where the show was very successful . The Show included several regular characters. Mainly the piano player Doug Graves. Doug accompanied Sven, when he sang song parodies. The show also featured, Zallman T. Tombstone, a talking skull that appears out of nowhere, and Durwood the ventriloquist dummy. Durwood was a member of the original Svengoolie show, but would only drop in every once in awhile on Son of Svengoolie. Sven just loved rubber chickens, making fun of the Chicago suburb Berwyn, singing song parodies, reading viewer mail, " Thank you, for all those cards and letters " , and most of all BAD jokes. The movies Sven showed ranged from classic Universal Horror, Hammer films, AIP films to the "not so classic". Never-the-less, Sven's Unique brand of humor and quick wit made each show worth watching.





In 1982, Sven made Chicago television history by airing the first ever 3-D movie on TV (Revenge of the Creature). The results were, well, let's just say they are still talking about it. You can see the opening of that "historic" show Here. The Son of Svengoolie show was syndicated in cities such as Detroit, Boston, Philidelphia and San Francisco. Here is the Son of Svengoolie opening from KBHK in San Francisco circa 1983. In Jan. 1986, after six and a half years, Son of Svengoolie went off the air. WFLD had been bought by the Fox Network. News was a priority and that left no budget for local entertainment shows. Koz was told that Sven was " just a local show ... not suitable for a network " . You can't keep a good "Goolie" down! Rich Koz went on to host "The Koz Zone" for four years, lasting until the early 1990's. Then, thanks to WCIU channel 26 Vice-President Neal Sabin, Sven finally returns ! Rubber chickens and all ! In January of 1995, "Svengoolie" went back on the air hosting horror movies for independant station WCIU 26. Now he is no longer Son of Svengoolie, and just goes by Svengoolie. Jerry G. Bishop claims, hes all grown up. You can still catch Svengoolie on WCIU channel 26 in Chicago ! Rich Koz (AKA - Svengoolie) is one of Amercia's longest running horrror hosts, a career lasting over 30 years! Long live Svengoolie!!!

-some text reprinted from the great website "Horror of the Svengoolies" you can visit them HERE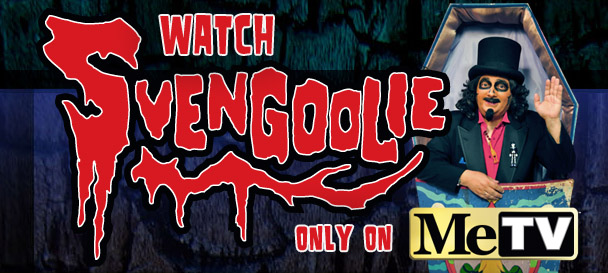 ---


please put on your special 3-D glasses (red/blue) to see the above image in spectacular 3-Dimension!

SVENFACTS:
The original Son of Svengoolie set contained a couple of surviving flats that were set pieces used in Chicago's original "Shock Theatre" (1957) on channel 7. It was donated to Columbia College after the show was cancelled and when WFLD Chicago (channel 32) moved from Marina City to Michigan Avenue. Sadly, the college destroyed it not long after.

The show's opening theme music was written by Sven's on-screen side kick, Doug Scharf (AKA Doug Graves). Doug and Rich composed most of the song parodies used on the show. Here's a great example of their talent.

The hands you see, usually at the door during the close of each weeks show, were that of WFLD staff announcer Jim Barton. Barton was THE voice of WFLD for many years.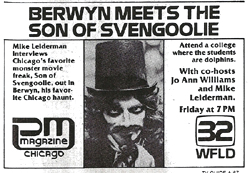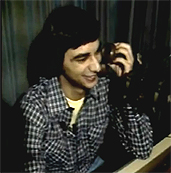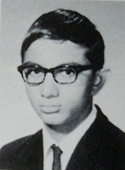 (Left):PM Magazine ad 1981. (Middle): Rich at WFLD studios, 1981. (Right): Rich Koz - High School picture 1969

Zallman T. Tombstone Jr. The talking skull on the show was actually made from a Revell Skull model kit. Zallman's character is based on Raymond J. Johnson Jr, who was famous for the phrase "You doesn't have to call me Ray". His voice is none other than Rich Koz! Here's Zallman in action.

Here is Sven's recent recollections of Tombstone from his WCIU Blog entry:
"Tombstone came to be, of course, as a result of the talking female skull, Zelda, who was on the original Svengoolie show with Jerry G. I wanted an equivalent, and Tombstone (proper name Zallman T. Tombstone Jr.) , like Zelda was based on Flip Wilson's Geraldine character, was based on Billy Saluga's Raymond J. Johnson character ("You can call me Ray- or you can call me Jay")- we build him from a build-it yourself skull kit, then put him on a pole with the string mechanism to make his mouth move. We added a thin green moustache —in honor of both Zelda's green wig, and the fact that the moustache was made out of the same green crepe hair that the original Sven used as his moustache and beard- a salute to him as well! If you ever see the bottom of my coffin- you will see a picture of Tombstone that still has a green moustache! He did have a big plastic cigar hanging from his mouth, but, it was hard to super-impose, due to the color- and also didn't stay attached to his mouth very well -so, Tombstone quit smoking. The green moustache was also not easy to super-impose, so we replaced it with the bright orange one he sports today. It is not in the best shape- and, if I can ever find a similar one, chances are he'll have a facial hair transplant! If you were watching last week- you saw Tombstone's nephews- who also have a pretty long history. We originally portrayed them with some small wind-up chattering skulls (like chattering teeth)- and used sped up voices for them. The problem with the chattering skulls was that they would move around while they chattered, and often would start to drift out of camera range, turn backwards, etc. Finally, we found some skulls that are like the alligator and animal heads you get at the zoo- mounted on a stick, with a trigger you pull to make their mouths move! This made them easier to puppet onscreen- and staff announcer Jim Barton and I would record their lines, slowly, so they could be sped up, similar to the Chipmunks! They helped picket in honor of Tombstone once ("Bonuses for Bonehead" was their rallying cry)- and you might have seen them doing a western song medley with me back at WFLD. It may well be time to bring them back… I have to say- Tombstone has always been one of the most popular characters on our show! Not bad for a Revelle plastic model kit…he has been on some of our t-shirts, and autograph cards- we may have to put him on one again!"





Durwood, the fuzzy haired wise cracking dummy, was the only cast member that was also used by the original Svengoolie.

Sven's coffin is the original one used by Jerry G. Bishop on "Screaming Yellow Theater". Sven repainted his face on it and still uses it to this very day! It is almost 40 years old!

Sven's skits each week usually involved parodies of local Chicagoland commercials. Here's one for "Vampire Carpets" (Empire carpets) and one for "Bert Im-ho-tep" (Bert Weinman Ford). Funny Stuff! Clever skits like "It came from the Audio/Visual dept., "Puttin' on the Boot" and "Boggie Woogie Bogeyman of Berwyn" were always fan favorites!

Rich Koz (AKA- Son of Svengoolie) got his start by sending the original Svengoolie (Jerry G. Bishop) jokes and skits to use during his show. This eventually lead to Koz doing small acting parts and voiceovers for Bishop's show. Some time after the original "Svengoolie was cancelled, Bishop gave Koz his full permission and blessing to continue on the "Svengoolie" Character. In fact on "Son of Svengoolie's" first show, the voicover intro was done by none other that Bishop himslef. Here's a clip of the original Svengoolie in action.





On the show's pilot, Son of Svengoolie was made up to look exactly as that of the original Svengoolie on "Screaming Yellow Theatre" (1970). They decided to update the make-up and costume because the original Sven was more of a hippie ghoul and the look was very late-'60s/early-'70s. Here's the opening from the very first "Son of Svengoolie" show! "Hey dad! Can I borrow the keys to the hearse tonight!"

The "Son of Svengoolie" was NOT WFLD's first choice as host for their horror movie show at the time, called "Creature Feature". Here's Rich Telling it in his own words..."I've told the story before about how I auditioned, along with a bunch of others- and how the program director actually did not choose me- he had opted for my friends, the comedy team of Penny and Wayne, whos audition had them as a couple who was getting dressed to go out on the town- but were distracted by the movie, and ended up staying around and watching it. It was actually a cute premise, but, the WFLD big shots , upon hearing his choice, said- 'No, you idiot- we want the traditional 'guy coming out of the box' type horror host."

Most folks are unaware of some of Sven's sound clips like "Thank you for cards and letters" - came from an old Stan Freeburg "Wunnerful" bit, and "the following prescribed is transgrammed" (an old Kermit Schaefer Bloopers LP) and of course the famous opening to every Son of Sven show: 'Clear the air lanes, Clear all air lanes' clip which is from the beginning of the 1932 film "The Big Broadcast!





In 1982, Sven aired the 1955 film "Revenge of the Creature" in 3D. The glasses were available from 7-11 stores all over Chicagoland so that viewers could see the 3D properly. The 3-D effect varied and some veiwers demanded their 69 cents back for the glasses. One rumour even had a fan drive his car through a 7-11 front window! Never-the-less the show was a big ratings hit. Visit Svengoolie-Nation's 3-D THEATER page here.





Not everything went as planned each week. Here's a rare clip from one of those "not-so-perfect" moments". Sven and John ad-lib to perfection!

On January 25th, 1986, the final "Son of Svengoolie" show was aired on WFLD TV 32 in Chicago. Koz, with his ever present flair for seizing any opportunity to poke fun, made light of the situation with this parody.

Here's a rare interview with Rich Koz (A.K.A Son of Svengoolie) from October 1992, 6 years after the show was cancelled.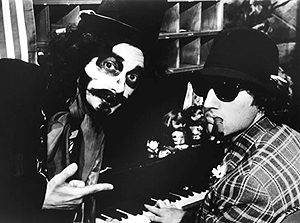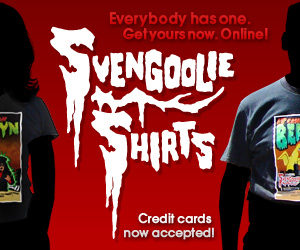 Read Sven & Doug's "Official Biography" as written by Rich Koz in 1982 and included in the "Son of Svengoole" Fan Club packet.

In 1995, "Svengoolie" was back on the air in Chicago on independant station WCIU TV 26. Here's the opening from the film "The Killer Shrews" from 1996. The show continues to air to this day, lasting far longer than the original "Son of" show!

Here's a clip of the WCIU's "Svengoolie" show where Rich prevues the film "Plan 9 from outer space" in Svensurround, a unique way of watching this old Ed Wood classic snoozefest.

LATEST SVENNEWS: UPDATE: Svengoolie has won the RONDO AWARD for favorite horror host of 2008. Here's the full story with Mr. Koz' acceptance speech.

LATEST SVENNEWS: UPDATE: Check out our exclusive tribute to Jerry G. Bishop, the original Svengoolie. Click here to visit "Screaming Yellow Theatre" page.

LATEST SVENNEWS: UPDATE: Check out our newest videos featuring Sven past and present. Click here to visit the "Videos" page.

LATEST SVENNEWS: UPDATE: Lost "Screaming Yellow Theater" original Svengoolie segments found!. The three newly found "Screaming Yellow Theater" shows, Episodes #59, #60 and #61, all come from March & April 1973 Check them out over at Fuzzy's Museum of Classic Chicago Television.


---

The very first two ads for "Son of Svengoolie" shows - June, 1979.
NOTE: "Island of Living Horror" was never shown, instead "Dracula's Daughter" was broadcast!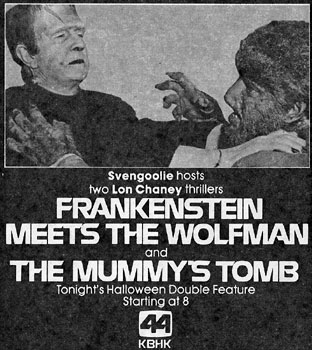 Halloween Special 1979 ad from KBHK 44 In San Francisco

PLAY THE "SVENGOOLIE" FLASH GAME HERE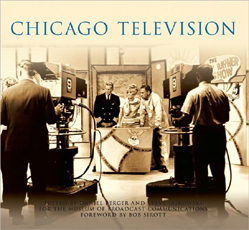 ***NEW BOOK ON CHICAGO TELEVISION RELEASED***
Click above image to order brand new Museum of Broadcast Communications book on Chicago TV history!
Features over 200 exclusive photos from the MBC archives!



If you liked this site, check out my WGN Creature Features tribute at:
WWW.WGNCREATUREFEATURES.TVHEAVEN.COM
---


IMPORTANT DISCLAIMER:

This website is intended for information & historical purposes only. All material herein is obtained from other places on the web. All copyrights are held by their respective owners. No copyright infringement is made or intended. Svengoolie Nation does NOT claim to hold any of these copyrights. These audio/video clips fall under the "fair use" section of United States copyright law. Svengoolie-Nation is NOT affiliated with WCIU, WFLD or Rich Koz. This website is NON-profit, for fun only. Just a place for the fans to get their Svengoolie fix. Enjoy!

website design and content 2009 Dan Siciliano